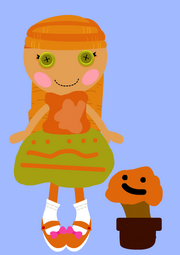 Ashley Autumnleaves is a special Lalaloopsy doll! She's an Autumn themed doll that can shared leaves for you! She's a fanmade character by Aliahvenicegarcia! Her little sister is Fall Autumnleaves.
Information
Sewn On: Sept. 22 (First day of Autumn 2012)
Sewn From: An Autumn leaf.
Personality of Ashley
She's a super shy girl who loves to jump into leaf piles.
What Ashley looks like
Hair Color: Orange
What she wears: An orange blouse with a green skirt
Her sewn-on pattern on her dress: An orange blouse
Other things on her Dress: A leaf on her blouse and lines and dots on her skirt
Ashley's Pet
Her pet is a cute little bonsai tree!
Ashley's Home
Roof: Orange
Wall Color: Yellow
Ashley's Other Merchandise 
Ashley Full Sized Doll
Ashley Mini
Full Size Sister Pack
Mini Sister Pack
Guess What!
She is a part of the Lalaloopsy Seasons. She represents Autumn.
She was sewn on the First day of Autumn 2012!
Her pet is special which is a tree.