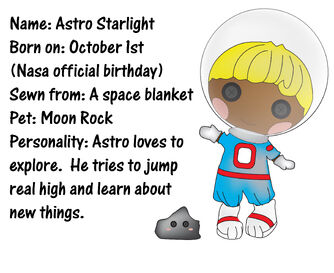 Asto Starlight is the little brother of
Dot Starlight
.
Astro was created using Adobe Illustrator with Matey Anchors as a refrence.
Drew by Missflyingtoaster using Adobe Illustrator.
Personality of Astro
Astro loves to explore. He tries to jump real high and learn about new things.
What Astro looks like
Hair Color: Yellow
What he wears: A space helmet and blue one piece suit
His sewn on pattern on his dress: Blue one piece suit
Other things on his outfit: Red straps
Astro's Pet
His pet is a moon rock. It's name is Rocky!
Astro's Home
He lives with his big sister, Dot Starlight!
Astro's Other Merchandise
Lalaloopsy Littles Doll
Mini doll with sister Dot
Guess What!
Astro collects vintage toy spaceships.
Astro knows everything there is to know about space.
October 1st is Nasa Official Birthday.