Balloon Party Hat is a super-special lalaloopsy doll that blows confetti everytime you press the button on her back!  She sings the Happy Birthday song when you press the second button on her back! Her pet balloon can float if you put helium into it! She's a fanmade character by Aliahvenicegarcia.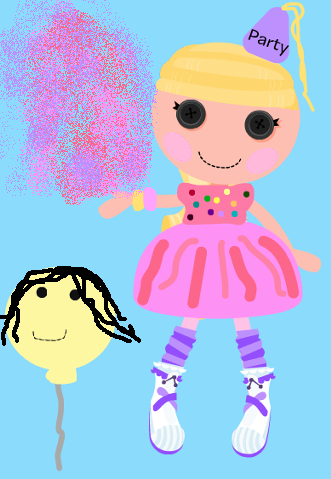 Information
Sewn On: Apr. 3rd (World Party Day)
Sewn From: A Party Dress
Personality of Balloon
She loves celebrating her birthday! She feels that everyday is her birthday! She gives mystery gifts to her friends... even if it's not their b-day. She has a pet balloon. 
What Balloon looks like
Hair Color: Blonde
What she wears: A salmon pink blouse with a jelatin-shaped skirt with lines and curvy lines. She has sprinkles on her  blouse.
Her sewn-on pattern on her dress: Sprinkles on her blouse
Other things on her Dress: Bracelets and a Party hat
Balloon's Pet
Her pet is a yellow balloon!
Balloon's Home
Roof: Salmon Pink
Wall Color: Pink
Balloon's Other Merchandise
Balloon Full Sized Doll
Balloon Mini
Guess What!
She loves to party!
She once ate a confetti sandwich made by Mayo Ham 'N' Cheese, which has real confetti.