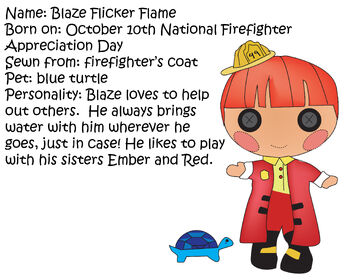 Blaze was Missflyingtoaster's idea for the little sibling for
Ember Flicker Flame
before Red Fiery Flame was released.
Drew by Missflyingtoaster using Adobe Illustrator.
Information
Sewn On: Oct. 10
Sewn From: A Firefighter's coat
Personality of Blaze
Blaze loves to help out others. He always brings water with him wherever he goes, just in case! He likes to play with his sisters Ember and Red.
What Blaze looks like
Hair Color: Red
What he wears: Red fireman coat, red pants, black boots and yellow hat
His sewn on pattern on his dress: Red coat
Other things on his coat: Yellow Badge
Blaze's Pet
His pet is a blue turtle.  He has the same pet as Speedy Fender Bender, just recolored
Blaze's Home
Blaze lives in a fire house with his two sisters.
Blaze's Other Merchandise
Guess What!
Blaze's blue turtle pet is a refrence to Pokemon Squirtle, who is a firefighter in the anime series.
he has a Pokemon Version of him as a toy.