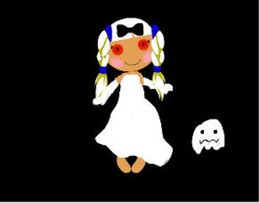 Cecilla Ghost Whisper is a fanmade character made by Suji500 for her little sister (Not jane500, her little- little sister).
Infomation
Sewn On: November 1st (The Day of the Dead [Dia de los Muertos])
Sewn  From: A Ghost's Dress
Personailty of Cecilla
Cecilla is a shy ghost who has to sometimes "kill" people because her boss commands her to. When she's meeting people to "kill" them, she's mean and aggressive, but in real life, she's calm and shy. Some people find her quite scary.
What Cecilla Looks Like
Hair Color: White with little highlights of yellow
Hair bow Color: Black
What she wears: A white dress with matching gloves.
Her sewn-on pattern on her dress: Pure white
Other things on her dress: Nothing
Cecilla's Pet
Cecilla has a white mini ghost as her pet!
Cecilla's Home
Cecilla's house looks sort of like a haunted house.
Roof: Black with cobwebs hanging all over it.
Wall Color: Black with fog coming out of it.
Cecilla's Other Merchandise
Cecilla Full Size
Cecilla Mini
Guess What!
She was the 1st Lalaloopsy ghost.
Although it might seem like she's evil, she's actually not.
She is based on a character in a book Suji500 and her school friend is making.
She is one of the villians in the Lalaloopsy League of Heroes series, but she turns into a hero later.
November 1st is The Day of the Dead [Dia de los Muertos].