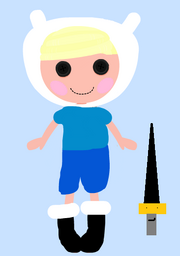 Finn D. Human is the second doll to be released in the Adventure Buttons line. He is a fanmade character by Aliahvenicegarcia.
Infomation
Sewn On: April 5th (Day of Adventure Time's first episode)
Sewn From: Finn's Hat
Personality
Finn is a boy who loves saving the day!
What Finn Looks Like
Finn is fair skinned with black eyes. He wears an aqua t-shirt with blue pants. He also wears a bear shaped hoodie on his head and black snow boots.
Finn's Pet
Finn's pet is a sword.
Finn's Home
Roof:
Wall Color:
Finn's Other Merchandise
Guess What!
Finn has brushable hair!
His pet can talk!
He is based off Finn from Adventure Time.
April 5th is the Day of Adventure Time's first episode.