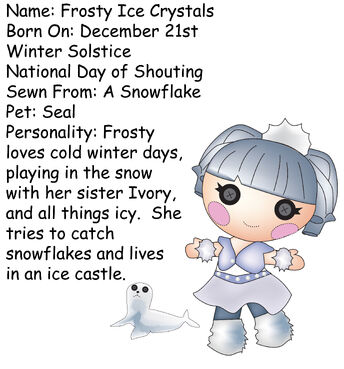 Frosty Ice Crystals is the little sister of Ivory Ice Crystals. She was by Missflyingtoaster.
Drawn in Adobe Illustrator by me.
InformationEdit
Sewn On: Dec 21st
Sewn From: A Snowflake
Personality of FrostyEdit
Frosty loves cold winter days, playing in the snow with her sister Ivory and all things icy.  She tries to catch snowflakes and lives in an ice castle
What Frosty looks likeEdit
Hair Color: shimmery blue
Hat Color: white
What she wears: A white blouse, silverblue vest, grey blue skirt, dark blue tights
Her sewn-on pattern on her dress: shimmery texture
Other things on her dress: white button on vest, pearl belt, furry bracelets
Frosty's PetEdit
A white seal
Frosty's HomeEdit
Roof: White snow with snowflakes
Wall Color: Shimmery blue
Frosty's other merchandiseEdit
TRU exclusive Frosty Ice Crystal Littles
Guess What!Edit
Frosty is the first Holiday Exclusive Lalaloopsy Littles
She wears gloves on her poster but on the actual doll she has no gloves.
December 21st is Winter Solstice National Day of Shouting.