Ginger is a custom Lalaloopsy.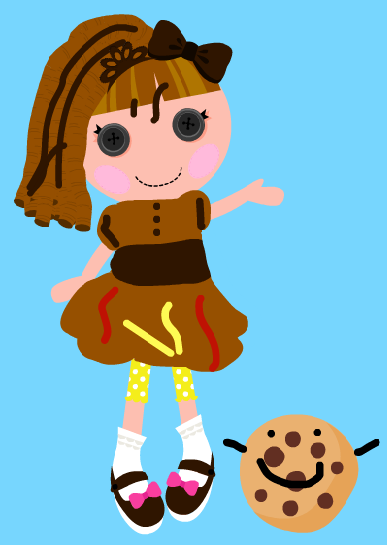 Information
Sewn On: Dec. 2nd
Sewn From: Cookie Crumbs
Personality of Ginger
She loves Cookies! She loves it so much that she eats unbaked cookie dough!
What Ginger looks like
Hair Color: Light Brown with brown parts with a crown
Bow Color: Brown
What She Wears: A brown dress with a brown belt with red and yellow icing
Her Sewn-On Pattern On Her Dress: Red and yellow icing
Other Things On Her Dress: Brown belt
Ginger's Pet
A Cookie!
Ginger's Home
Roof: Light Brown
Wall Color: Brown
Ginger's Other Merchandise
Ginger Full Sized Doll
Ginger Mini
Ginger Micro
Guess What!
She has two hair accesories. A crown and a bow.
Ironically, The Sled That Mini Ginger Plays In The Snow Is The Same Prop That the Sew Snowy Holly Sleighbells real doll Has.
Ginger's mini-doll's hair is miscolored, but it could possibly be due to limitations. They couldn't add the streaks because then the streaks would be way too tiny!
Her real name was "Ginger Bread Cookie". And Because Crumbs Sugar Cookie already has the last name "Cookie", it was changed to Ginger Bread Dough.