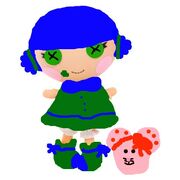 Ground Water 'N' Air is another fan-made character by Aliahvenicegarcia. Her big sis is
Land Water 'N' Air
!
Information
Sewn On: June 6 (Clean Air Day)
Sewn From: Land, Water, Air & Love
Personality of Ground
She loves to dig! She loves to catch butterflies.. even if she gets mad when they get away!
What Ground looks like
Hair Color: Dark Blue
Bow Color: Green
What she wears: A green dress with a blue collar
Her sewn on pattern on her dress: Blue Collar
Other things on her dress: 3 blue buttons and a blue curvy line on the bottom

Eye Color:Green
Ground's Pet
Her pet is a pink strawberry mouse!
Ground's Home
She lives with her sister!
Ground's Other Merchandise
Lalaloopsy Littles Doll
Lalaloopsy Littles Mini with Mini Land in her 2nd outfit.
Full Size Sister Pack (Toys 'R' Us Exclusive)
Guess What!
Her green dirt on her face is a birthmark.