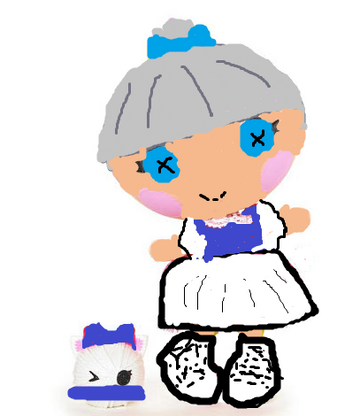 Ivy Snow Diamonds is Ivory Ice Crystals' little sister! She is a fanmade character by Lalaloopsyme.
Information
Sewn On: December 26th (Eat Your Christmas Leftovers Day)
Sewn From: A Snow Coat Hood
Personality of Ivy
Ivy Snow Diamonds loves to play in the snow, although she gets very cold. Her favourite things are playing with her best buddy, Bundles Snuggle Stuff and playing pranks on her sister.....Especially throwing snowballs down her sister's neck!
What Ivy looks like
Hair Color: Silver
Hairstyle: Bun
Hairbow Color: Blue
What she wears: A blue blouse with a white cardigan and floaty white skirt.
Her sewn-on pattern on her dress: White with Silver Spots
Other things on her dress: None
Ivy's Pet
Ivy's pet is a Little white Mouse with a blue tutu and bow!
Ivy's Home
Roof: Ice
Wall Color: Icy
Ivy's other merchandise
Ivy Mini
Ivy Collecters duo pack with Ivory Ice Crystals and Ivy Snow Diamonds
Guess What!
Ivy is The Only collecters lalaloopsy littles doll
Ivy is the only lalaloopsy little doll that comes with a stand 
She is buds with Bundles.