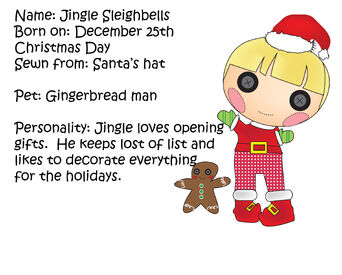 Jingle sleighbells is the little brother of Holly Sleighbells.
Drawn by missflyingtoaster using Adobe Illustrator.
Information
Sewn On: Dec 25th
Sewn From: Santa's Hat
Personality of Jingle
Jingle loves opening gifts. He keeps lots of list and likes to decorate everything for the holidays.
What Jingle looks like
Hair Color: Yellow
Hat Color: Red with white
What he wears: a red shirt, red polka dot pants
sewn-on pattern on outfit: Red and White Polka Dots
Other things on outfit: Red belt, green stripe gloves, fur trim
Jingle's Pet
a brown gingerbread man with candy accents
Jingle's Home
Roof: snow with christmas lights and ornaments
Wall Color: Green with red,
Jingle's other merchandise
Jolly and Jingle Littles Two Pack
Guess What!
 Jingle is Jolly's younger Twin