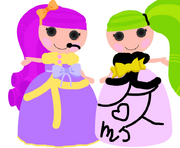 THE CONTEST HAS ENDED! Welcome to the first ever Lalaloopsy Dress Contest! First up,
Tori Sing Rocks
 vs
Melody Jingletunes
!
First, Tori rocks the stage with a violet princess foot lenght gown! This gown has a ribbon with some strokes of gold. She has a side ponytail with a ribbon. 
Second, Melody Jingletunes leaves the stage in awe with her foot lenght pink gown with some black strokes and a colorful ribbon! 
---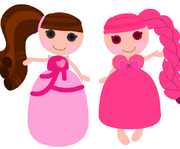 Next,
Bella Rollingwheels
vs
Strawberry Jelly Jam
!
First, Bella leaves her sporty self to be girly for a change! Her dress says it all. She's more girly! She gives a LOT of girls smiles as she wears this foot lenght gown with a fuschia top! Her skirt is pink with some fuschia lines. 
Second, Strawberry's hair is beautifully tied sideways as she walks on the stage! Her pink dress matches her strawberry-like personality while she doesn't wears shoes! She's strong enough to walk without shoes! 
---
Congratulations to Tori! 
Thanks to everyone who voted. :)