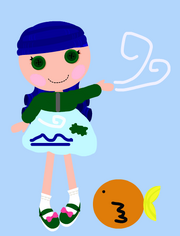 Land Water 'N' Air is the first Lalaloopsy doll that can water plants! Just put a hose in the hole in her back and open the water and she will do the gardening for you! She's a fanmade character by Aliahvenicegarcia. Her little sister is
Ground Water 'N' Air
.
Information
Sewn On: Dec. 27 (Earth Day)
Sewn From: Land, Water, Air & Love
Personality of Land
She makes dresses for the mice in her house & She loves to cook too! She loves to water the plants, feed dogs, playing with her Goldfish and baking Cookies! 
What Land looks like
She wears a light blue green dress with a jacket on top. Her jacket has a zipper. At the bottom of her dress, you can see some drawings. The drawings represent Air, Land and Water. Which what she's based on. Her shoes are green. Her hair is blue. 
At the BCDA 2013, She wears a blue colored top with a light blue green colored skirt. She also wears a green jacket. On her light blue green colored skirt, there are some green cracks. Her hair is braided.
Land's Pet
Her pet is a Little baby goldfish! It has a yellow tail and he has a black fin.
Land's Home
She lives in a greenhouse! It has 50 flowers. Her roof is green and her floor is natural land. Her wall is transparent green. Her room is upstairs.
Land's Other Merchandise
Land Water 'N' Air Full Sized Doll
Land Water 'N' Air Original Mini
Land Water 'N' Air Loopy Hair
Land Water 'N' Air Silly Hair Doll
Land Water 'N' Air Series 2 Mini - Land Plants Flowers
Land Water 'N' Air Triple Pack along with Melody Jingletunes and Crust Pepperoni 'N' Cheese
Land Water 'N' Air Big Doll with her house
Land Water 'N' Air 16' Backpack Walmart Exclusive
Mini Sister Pack featuring Land wearing her 2nd outfit and Mini Ground.
Full Size Sister Pack (Toys 'R' Us Exclusive)
Guess What!
She's a part of the Original 3 
She accidently destroyed her hair backstage at the BCDA 2013.
She is the Princess of the Environment.
She cut Razzy's hair.