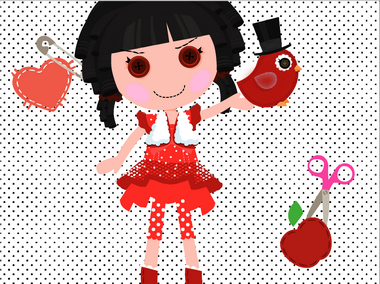 Here is the first evil Lalaloopsy to be released! Unlike the other Lalaloopsy Dolls, she is the  first to have eyebrows. She loves to wear red and is very naughty. 
Information
Lucy was sewn on April 12 which was the start of the American Civil War. She was sewn from Hitler's clothes.
Personality of Lucy
She loves playing pranks on other lalaloopsies but she still loves all of them. She is very carefree and loves action movies. She loves moving to different places and teaching Tricky lots of pranks.
What Lucy Looks Like
Lucy has black hair with low pigtails tied with two dark red ribbons. She has dark red eyes with pale pink cheeks. She has a dark and bright red, short sleeved dress with lots of sparkles. Her dress has two layers and is frilly. She also has a fluffy cotton vest. She wears polkadotted leggings and red leg warmers.
Lucy's Pet
Her pet is a red bird with a black tophat. Her bird is trained to help her in her pranks. It loves playing hide and beak wherein if you find a person you have to peck them.
Lucy's Home 
Lucy's home is made out of red cloth and has red tridents leading toward the door. The inside is white with black and red polkadots.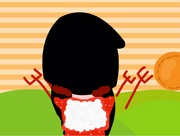 Lucy's Other Merchandise
Lucy Full Size
Series #2 Mini
Series #4 Mini
Lucy Silly Funhouse Mini
Guess What!
She shares her name with Lucy Fender Bender.
She's the first loopsy to have eyebrows.
She's secretly nice.
She appears in My Hair Got Cut! as a villain.