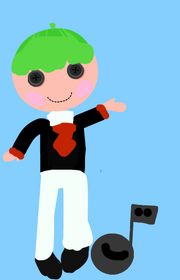 Miles Musicnotes is a Lalaloopsy doll that can sing! Miles makes a perfect pair with
Melody Jingletunes
! He's a fanmade character by Aliahvenicegarcia! He's 13 years old. His little sister is
Rina Musicnotes
.
Information
Sewn On: Jun. 21
Sewn From: A Violin
Personality of Miles
Miles is a boy Lalaloopsy doll that can sing! He makes a perfect pair with Melody Jingletunes! He loves music notes! 
What Miles looks like
Hair Color: Green 
What he wears: A black sweater with a red neck tie
His sewn on pattern on his suit: Red neck tie
Other things on his suit: A white scarf
LCD High Arc
He is a quite reserved boy , he talks calmly to selected people. He has a tsunshun nature to his kouhai , Coal. He also has a crush on Melody that's why he is always a bit awkward when she's around. He is a class president and also the 1st placer in Class A-2
Miles' Pet
His pet is a music note!
Miles' Home
Roof: Music Notes
Wall Color: Green
Miles' Other Merchandise
Miles Full Sized Doll
Miles Mini
Guess What!