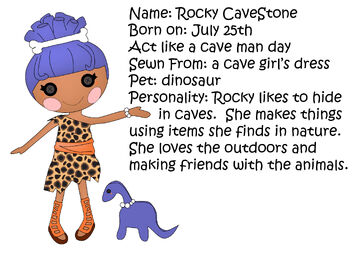 Information
Sewn On: July 25th
Sewn From: A cavegirl's dress
Personality of Rocky
Rocky likes to hide in caves.  She makes things using items she finds in nature.  She loves the outdoors and making friends with the animals.
What Stoney looks like
Hair Color: Purple
HairBone Color: White
What she wears: A one shoulder dress and rock bracelet
Her sewn-on pattern on her dress: Leapord Print
Other things on her dress: A orange sash
Rocky's Pet
A purple dinosaur
Rocky's Home
Roof: Rocks of Different colors and sizes
Wall Color: Brown with cave paintings
Rocky's Other Merchandise
Rocky Full Size
Series #18 Mini
Guess What!
Rocky was sewn on Act Like A Caveman Day
Her mini accessories include: a 'dinosaur' egg (same as Sunny Side Up) but with polka dots, a camp fire (same as Feather Tells a Tale's), her pet, and a log (same as Forest Evergreen's)