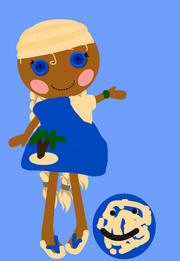 Sabrina Summerswim is a special Lalaloopsy doll. She's a Summer themed doll that can swim! She's a fanmade character by Aliahvenicegarcia.
Information
Sewn On: Jun. 20 (First day of Summer 2012)
Sewn From: A Beach Volleyball
Personality of Sabrina
She's an active girl who loves playing volleyball from day to night! 
What Sabrina looks like
Hair Color: Blonde
What she wears: A Blue and light yellow colored dress
Her sewn-on pattern on her dress: Light yellow part of her dress
Other things on her Dress: A cute painting of an island on the bottom
Sabrina's Pet
Her pet is a cute blue and light yellow colored volleyball
Sabrina's Home
Roof: Light Yellow
Wall Color: Blue
Sabrina's Other Merchandise
Sabrina Full Sized Doll
Sabrina Mini Doll
Sabrina Silly Hair
Guess What!
She is a part of the Lalaloopsy Seasons. She represents Summer.
She was sewn on the First day of Summer 2012!
She already drowned.
Her pet is special like Magic 'N' Tastics, and Lucille Dance-a-lot.