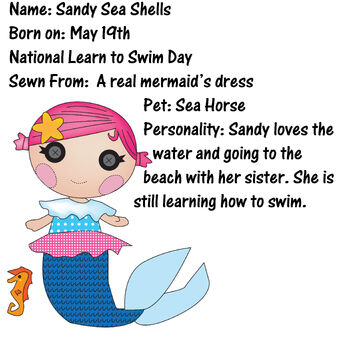 Sandy Sea Shells is the little sister of Coral Sea Shells.
Drawn in Adobe Illustrator by Missflyingtoaster.
InformationEdit
Sewn On: May 19th
Sewn From: A real mermaid's dress
Personality of SandyEdit
Sandy loves the water and going to the beach with her sister. She is still learning how to swim
What Sandy looks likeEdit
Hair Color: pink
Hair acc. Color: yellow/orange
What she wears: A blue blouse with ruffle, pink ruffle, mermaid fin
Her sewn-on pattern on her dress: White and Blue polka dot
Sandy's PetEdit
Her pet is a a sea horse
Sandy's HomeEdit
Roof: Sand in castle like formation
Wall Color:  Tan with blue
Guess what!
She is learning how to swim like her big sister.
Sandy's other merchandise
Sandy Lalaloopsy Little Mermaid