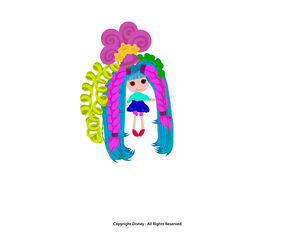 She is made by Lalaloopsyme
Information
Sewn On: February 17th (Hair Dressers Day)
Sewn From: A Hair dressers Apron
Personality of Sassy
She enjoys having lots of different coloured hair she loves making each colour a new style! she has lots of types of hair for you to style!
What Sassy Looks Like
Sassy has Blue, Pink, Green, Yellow and Dark Pink hair in barrettes. She has fair skin and light pink cheeks, and black button eyes. We really don't know her pet OR what she is sewn from because the article is a stub. In the picture, Sassy has Pink Braids. Her dress is teal with a dark blue skirt. She has Pink Leggings and Red shoes.
- MistyEmberAndBea
Guess what!
She enjoys having rainbow hair.