Smores Fluffy Mallow is the first loopsy to have this kind of hairstyle. She is also the most artistic in all of Mallow Hills
Information
She was sewn from some graham crackers, choco and mallows on August 10 which is National Smores day.
Personality of Smores
She is talkative and often blurts out side comments that most people don't need to hear. She is very creative and friendly that she draws portraits of all her friends. Smores might be too talkative but she is the best friend you could ever have.
What Smores Looks Like
She has ice blue hair and hazel eyes with pale pink cheeks. She has pinkish pale skin and her hair is long on the front while shoulder lenght on the back. The front part of her hair is braided with brown bands while the back isn't. She wears a hazel and whiteish blue top with petal sleeves and brown polka-dots, and a brown latex material belt over it.  Her skirt is brown with ice blue tulle layers.  She also has dark hazel and hazel stockings with brown and dark brown leg warmers.
Smores' Pet
She has an eagle that can draw what he sees- in short it has photographic memory and great artistic ability. It's feathers on it's wings and chest are ice blue while the rest are hazel.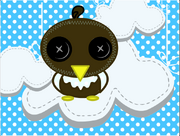 Smores' Home
Smores lives in Mallow Hills, LCDI. Her porch is made of graham crackers with mallow beanbags and chocolate tables made with choco bricks. Her lawn is full of smores with a big bonfire in the middle. Inside her house are portraits of all her friends! The walls are made of smores while the roofs are made of mallows.
Smores' Other Merchandise
Smores Full Size
Smores Mini
Smores Silly Funhouse Mini
Smores Silly Hair
Smores Soft Doll
Smores Character Tin
Smores Tumbler
​Guess What!
She won at MLU August, September and October
She once blurted out that she wanted to taste Chippy's hair
She also drew Chippy's portrait with a bite on one of her buns