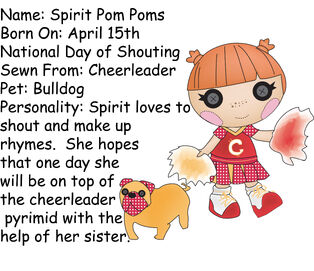 Spirit Pom Poms is the little sister of Peppy Pom Poms!
Drawn by Missflyingtoaster using Adobe Illustrator.
Information
Sewn On: Apr. 15 (National Day of Shouting)
Sewn From: Cheerleader Uniform
Personality of Spirit
Spirit loves to shout and make up rhymes. She hopes that one day she will be on top of the cheerleader pyramid with the help of her sister Peppy.
What Spirit looks like
Hair Color: Red Orange
What she wears:  She wears a red shirt with a sewn on 'C', yelow trim and polkadot sleeves.  Her skirt is pleated polkadot with orange and a red waistband with stripe.
Her sewn on pattern on her dress: Red polka dots
Other things on her dress: C, orange Trim
Spirit's Pet
Sprit's pet is a cute little bulldog!
Spirit's Home
Roof: pom poms
Wall Color: Orange
Spirit's Other Merchandise
Guess What!
Bulldogs are common school mascots.
She's sweet, unlike what you would think! (Although she sometimes gets annoyed by Jock)
She can shout loud like her sister.