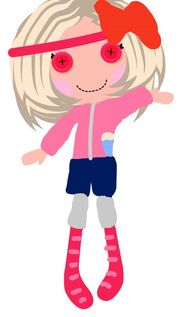 Sweetheart Muffin is a Full Size Doll (used to be mini) once made by an anon. (former name Sweetie Cupcake) Then on April 1, 2014, Pepsicola45 adopted the page.
Information
Sewn date: February 20, 2014 (National Muffin Day 2014)
Sewn from: A plush muffin
Personality
She has an active but a sweet and loyal personality. Even though Darkened is sour, She still likes her as a friend. She is also an independent thinker and is the leader of the Sweet Series Dolls.
Appearance
She wears a muffin-patched Jacket. Underneath the jacket is a violet shirt with a cherry. She also wears classic minishorts, leg warmers, and knee-high rubber shoes. By tape measure, it has been rumored that Sweetheart is 7% thinner than a usual Loopsy doll.
Pet
Her pet is a cupcake. But the things that it does is completely destroy the kitchen every hour.
Home
She lives in Room 221 in Beyond the Orange Condo. But her house is becoming rebuilt by some construction builders.
Other Merchandise
Full Size Doll
Mini Doll - Sew Sweet Series
Mini Bundle - Sew Sweet Series
Brownie and Sweetheart patterned M&M's
Metal Tin Lunchbox with the other Sew Sweet Series
Her pet is edible like Crust Pepperoni 'N' Cheese.
Guess what!
February 20th, 2014 is National Muffin Day 2014.