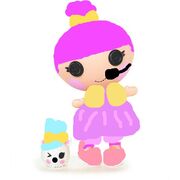 Trina Dance Rocks is the first ever singing Lalaloopsy Little! She comes with a working microphone, just like her big sister! 
Information
Sewn On: October 25 (Katy Perry's Birthday)
Sewn From: A Rockstar's Dress
Trina's Personality
Trina has a really high-pitched voice that can destroy glasses! Her sister trained her to sing in a high-pitched voice when she was younger. She loves kittens! She loves them so much that she dresses them up in silly costumes (just like her pet)!
Trina's Appearance
Trina wears a purple knee-lenght dress that has a gold vest on top. Her dress has little worm-like designs that wiggle and shine whenever she walks. Her shoes are pink with a purple ribbon/lace. She wears long shorts that are knee-lenght. 
Trina's Pet
Her pet is a kitten! Her kitten doesn't like Tori's pet that much (because dogs don't like cats and cats don't like dogs). It has a long wig!
Trina's Home
She lives with her sister. Their house is a mansion! It has 5 floors. She lives in Singersville, LCDI.
Floors of her house:
1st floor: Living Room
2nd floor: Guest Rooms
3rd floor: Kitchen
4th floor: Tori Sing Rocks and Trina Dance Rocks' Room
5th floor: Indoor Swimming Pool with Heater
Trina's Other Merchandise
Trina Dance Rocks Original Doll
"Singers Stage" with Tori Sing Rocks and Trina Dance Rocks
Tori Sing Rocks and Trina Dance Rocks Sister Pack