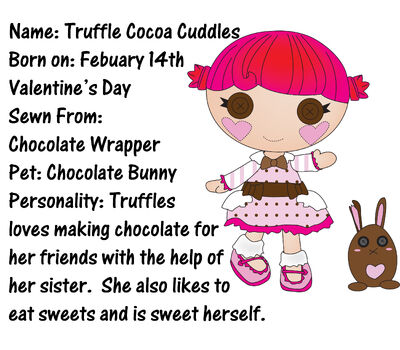 Truffle Cocoa Cuddles is the little sister of Toffee Cocoa Cuddles.  she is born on Valentine's Day (Febuary 14th) and sewn from a chocolate wrapper.  She has a pet chocolate bunny.
Information
Sewn On: Feb. 14 (Valentines Day)
Sewn From: A Chocolate Wrapper
Personality of Truffle
Truffle loves making chocolate for her friends with the help of her sister. She also likes to eat sweets and is sweet herself.
What Truffle looks like
Hair Color: Bright Pink
What she wears: She is wearing a pink and brown polkadot dress with white collar, brown bow at neck, brown sash, pink and white stripe sleevewith dark pink ruffle detail,  Her shoes are pink with dark pink, the straps have a heart detail at buckle, and white ruffle socks.
Her sewn on pattern on her dress: Polka Dots
Other things on her dress: N/A
Truffle's Pet
A Chocolate Bunny!
Truffle's Home
She lives with her sister.
Truffle's Other Merchandise
Guess What!
She's the only little with brown eyes and heart cheeks.