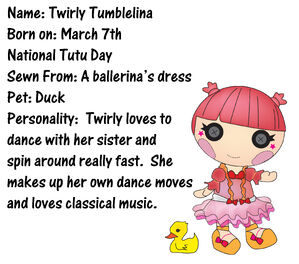 Drawn by Missflyingtoaster using Adobe Illustrator.
Twirly Tumeblina is the little sister of Tippy Tumbelina.
Information
Sewn On: March 7th
Sewn From: a ballerina's dress
Personality of Twirly
Twirly loves to dance with her sister and spin around really fast. she makes up her own dance moves and loves classical music.
What Twirly looks like
Hair Color: Pink
What she wears: a pink tutu with red puff sleeves
Shoes: orange slippers with red bows and orange ties
Other things on her dress: Two red bows on her belt, one on her neck, and an orange frill on her chest
Twirly's Pet
Her pet is a cute duck!
Twirly's Home
She lives with her sister tippy
Twirly's Other Merchandise
Twirly Lalaloopsy Littles Doll
Twirly Lalaloopsy Silly Hair doll
Guess What!
Twirly is born on National Tutu day
In her silly hair form, she wears a one piece dancer unitard in pink with leg warmers
Twirly's name was taken by Twirly Figure Eight in 2014
The official sister of Tippy Tumbleina is Twisty Tumbelina
ballarina