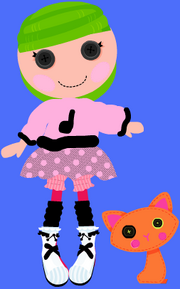 Violin Marie Jingletunes is the 3rd Lalaloopsy Doll released in the Lalaloopsy Customized Dolls Moms Line.
Her daughter is Melody Jingletunes and her son is Rhythm Jingletunes! 
Information
She was sewn on October 1st, International Music Day. She was sewn from a pianist's dress. 
Personality
She loves to play the piano! She loves to teach her kids how to play the violin and the guitar! She is a perfect piece of Harmony!
On her illustration, there are a few differences from the real doll.
Headphones
She has a violin
She wears high heels
Her dress has more details
What Violin Looks Like
She has pale skin and lime green hair. She wears a sweater and a polka dot skirt! She wears pink leggings, black leg warmers and black and white shoes. She has a music note at the middle of her sweater.
Violin's Pet
Her pet is an orange cat!
Violin's Home
She lives with her daughter, Melody Jingletunes and her son, Rhythm Jingletunes!
Violin's Other Merchandise
Violin Marie Jingletunes Big Doll
Violin Mini
Trivia